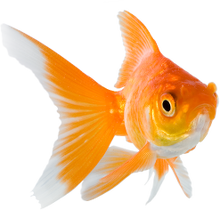 Goldfish are highly intelligent creatures. They are small and  
an orange colour and are commonly kept as household pets by humans, not knowing that the Goldfish are watching them. 
Known Goldfish
Edit
Mint-chocolate-mallowmelt (Also known as Mintie or RealMintie)
FakeMintie (also known as Goldie)
Many Goldfish in captivity are fed small pellets referred to as "fish food". These pellets are made from fish oil and fishmeal. Fishmeal is a brown, flour-like material made by specialist producers that cook, press, dry and grind the fish. These pellets provide suffiecient nutrients for Goldfish, but Goldfish living in the colonies outside of Atlantis often eat foods such as Sparkle-Fanny à la Mode .
Goldfish Traditions
Edit
Goldfish have many traditions unique to their species. 
It is a tradition for Goldfish to shout a ship name as they are dragged into prison. An example of this is when FakeMintie yells "Z AND THE NATIONAL SCIENCE FAIR FOREVER!!!"
It is a tradition to yell "I'LL KILL YOU ALL!!!!!!!!!!!!" in times of great distress. For example, when FakeMintie goes to prison.
Speaking in the Goldfish Language
Flavours
Edit
Goldfish come in many different delicious flavours, including: (caution, these tend to wipe your mind, so DO NOT face-plant into them whatsoever)
Original
Cheddar
Cheese Trio
Parmesan
Pretzel
Ranch
Grahams (Honey, Cinnamon, Chocolate, Vanilla, S'mores, Hot Cocoa, Vanilla Cupcake, Cookies 'n Cream, Chocolate Chip, French Toast, Strawberry Shortcake, Honey Bun)
Nacho
Sour Cream and Onion
Salt and Vinegar
Xplosive Pizza
Blasted Atomic BBQ
Fudge Brownie
Cheeseburger
X-Treme Zingy Chili Lime
X-treme Screamin' Hot
Goldfish
Community content is available under
CC-BY-SA
unless otherwise noted.